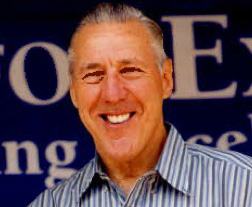 Allan Klumpp '53
Many children have dreams of becoming firefighters, ballerinas, doctors, or teachers, but when Allan Klumpp '53 was a boy, he wanted to become a mechanical engineer. That boyhood fantasy turned into a career that helped propel the dream of a nation.
ORLANDO, Fla. – Head coach Paul Settles of the Claremont-Mudd-Scripps men's tennis team has been named College Coach of the Year by the United States Professional Tennis Association (USPTA). The USPTA announced its 2013 award winners on Friday, Sept. 27 at its annual World Conference in Florida.
A strong CMC alumni networking effort is spreading across the US and could come to a city near you.
The brainchild of Aron Khurana '09 and Rick Voit '78 from the Chicago Chapter of the CMC Alumni Association, the program aims to help CMC job-seekers by connecting them to other alums in the cities where they'd like to work.
CMCers clearly like a challenge. Throughout Teach For America's 23-year history, 126 CMC alumni have taught as corps members. Eleven of them joined this year, and about 13 percent of CMC's graduating seniors applied to Teach For America's 2013 corps. On a just-released list by TFA, the College ranked 15th among small colleges and universities (2,999 or fewer students) contributing the greatest number of graduating seniors to its 2013 teaching corps.
Living on One's "Change Series" launched its first two mini episodes on Sept. 3. This is an eight-part series following the experiences of Chris Temple '12, Zach Ingrasci '12, Sean Leonard and Ryan Christofferson, who lived on a mere $1 a day for eight weeks in rural Guatemala. Each episode focuses on a specific and pressing development topic faced by the young men (and their community), including access to clean water, nutrition, education, employment, finance and disasters. Each segment is paired with additional resources to help viewers take action.
The end of summer may be in sight, but there's still plenty of time for vacation reading, starting with the following selection of new and recent releases by members of CMC's alumni community:
Claremont, Calif., August 7, 2013–– Claremont McKenna College today announced the successful conclusion of The Campaign for Claremont McKenna, which has raised a total of $635.2 million to help build, support, and transform the College's academic environment. The Campaign raised support for faculty and students, enhancement of the College's facilities, and scholarships through The Fund for CMC.
Some people can't quite figure Brentt Baltimore '10. Others, when they find out the work he does and what he's sacrificed to do it, know all they need to know about what kind of a guy he is.
You see, Baltimore, 24, is making news for having turned down a six-figure job at a Los Angeles hedge fund in favor of a $33,000-a-year position at a venture capital firm in Detroit––despite having $38,000 in student loan debt.
Pages