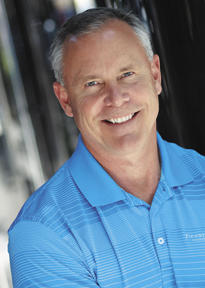 CMC alumnus and President and CEO of ClubCorp, Eric Affeldt '79, announced that ClubCorp raised more than $2.5 million in 2014 through its Charity Classic events, breaking its previous all-time fundraising record set in 2013.
Thomas W. Lentz '74
Former Claremont-Mudd-Scripps men's golf All-Americans Tain Lee (CMC '12) and Brad Shigezawa (CMC '14) were NCAA Division III national champions during their time in Claremont. Their success as amateurs has carried over after college, as both golfers now are chasing down their dreams in the professional ranks. Over the last month, Shigezawa and Lee have both made great strides in their professional careers.
A tiny number of individuals on the planet at any point in their lives have an interest in going out and completing a 2.4-mile ocean swim, 112-mile bike race or 26.2-mile run. Even fewer actually have the determination, will and fitness level to attempt and complete any one of those three athletic endeavors in their lifetime, let alone all three.
It was a homecoming of sorts at the Athenaeum for Steve Bullock '88, Governor of Montana and a Politics Philosophy Economics major during his days at CMC.
"Thirty years ago this past fall is when I first walked onto this campus," he told attendees at an Ath presentation this week that he whimsically named: "How to Get a Job like Mine (and would you really want it?)"
Pages