Mussorgsky, Mt. Baldy, childhood memories — a new mural by acclaimed artist Mary Weatherford captures a range of her emotions and reactions, especially her responses to Claremont's landscape and environment.
Tuesday night the mural's installation in the Marian Miner Cook Athenaeum was celebrated with a dinner and talk held in the Security Pacific Dining room, where the 117" high x 234 " wide canvas covers an entire section of the room's southern wall.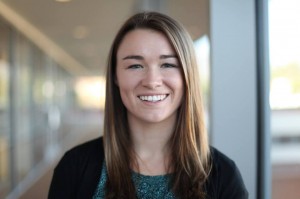 Charlotte Bailey '16/Photo credit: Tricia Wang '15
By Tom Johnson
Perhaps just one thing has been as constant at CMC as the uniform excellence of speakers at Marian Miner Cook Athenaeum, and that is the woman who has shepherded those hundreds of celebrities and presenters up to the podium throughout the past 25 years – Bonnie I. Snortum.
Shannon Miller '16 and Dante Toppo '15, new Ath Fellows (2014-15) for the Marian Miner Cook Athenaeum, are going to have fun with their responsibilities this year. In fact, they're a laugh a minute.
Sophomore Miller is from Berkeley, Calif. "Think rich people, liberals, protests, and Peet's Coffee & Tea on every corner," she says. Her major is Philosophy, Politics and Economics and she has big plans after graduation.
Pages