Lee Skinner, Associate Professor of Spanish, and Ronald Riggio, Henry R. Kravis Professor of Leadership and Organizational Psychology, have been named Associate Deans of the Faculty, effective July 1, 2013.  Professor Skinner will focus on the development and implementation of the College's curriculum. Professor Riggio will direct the College's faculty and research development efforts.
KALAMAZOO, M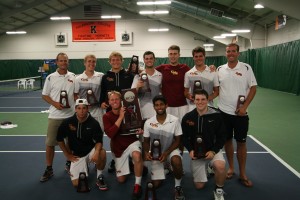 ich. – A tiebreaker in No. 2 doubles went the way of Williams and with that the momentum of the match, as the top-ranked Claremont-Mudd-Scripps men's tennis team was edged 5-2 in the title match of the NCAA Division III Championships by No. 6 Williams on Wednesday evening at the Markin Center.
May 17, 2013
Dear Members of the CMC Community:
I am very saddened to report the untimely death of Ali Mirza '15, who passed away early this morning. Our thoughts are with his family and friends at this difficult time.
We will share more information with our community as it becomes available. Members of the CMC staff have been with Ali's family.
Our deepest sympathies go out to the Mirza family and the CMC community.
George R. Roberts '66 P'93, co-founder of Kohlberg Kravis Roberts & Co. (KKR) and its co-chairman and co-chief executive officer, delivered the keynote address at the College's 66th Annual Commencement ceremonies on May 18. Roberts spoke about his years at CMC and his experience in the business world, imparting advice on success and leadership to the graduates before the conferring of degrees amid shouts and cheers from the graduates and their loved ones on Pritzlaff Field.
Second Nature Aquaponics, co-founded by CMC Students Peter Fankuchen and Jack Oliphant; and Serengetee, co-founded by CMC student Jeff Steitz, won the 2013 Innovative Start-Up Awards presented by the Kravis Leadership Institute on April 22.
The awards are presented annually to a CMC student or team who proposes a business venture with the intention of putting it into operation. For the first time this year, winners were drawn from two tracks of competitors— commercial and social ventures. The commercial track award went to Second Nature Aquaponics.
Pages