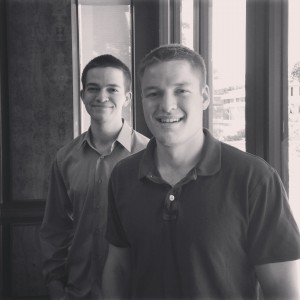 Andrew (left) and Ben. Yep. Their jobs as Ath Fellows are pretty sweet.
Benjamin Tillotson '15 and Andrew Willis '14, new Ath Fellows for the Marian Miner Cook Athenaeum, hope to book a diverse and interesting group of speakers when they begin their stint for 2013-2014.
High school students converged on CMC this spring to debate an issue of central diplomatic and military importance for the world. What was it?
The Trojan War.
Dear Members of the CMC Community,
It is with great pleasure that we announce the appointment of Professor and Associate Dean of the Faculty Nicholas Warner as Interim Vice President for Academic Affairs and Dean of the Faculty during an important time of leadership transition at the College.
Johann Olav Koss, the Olympic speed skater from Norway and founder of the nonprofit Right To Play, will visit Claremont McKenna College on Thursday and Friday, April 18-19, for activities surrounding the Kravis Prize.
Events throughout the day, including Thursday's Global Leaders Forum––hosted by KLI and featuring previous Kravis Prize recipients–– as well as the Kravis Prize Award dinner, will be live-streamed at this address: http://www.cmc.edu/livestream.
Pages