What to Bring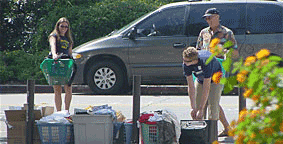 As you decide what to pack, keep in mind that you will likely be sharing a room with another person. You may want to talk with your new roommate before purchasing large items which you might be able to share, such as a stereo.
All residence hall rooms have a bed (an extra long twin, 38"x80"), mattress, dresser, desk with small bookshelf, chair, MicroFridge (a small fridge/freezer with a microwave attached), recycle trash can, and waste basket. Students are not allowed air-conditioning units, hot plates, sun lamps, coffee makers, or electrical cooking equipment. Please see the Guide to Student Life for more detailed residence hall policies.
You may find the list below useful to make sure you don't forget anything. A printable PDF version is available here. Remember, large items can be shipped and many stores are within a short distance from the College. It may be useful to bring a cart or dolly to move items into your residence hall room. Limited dollies/carts are available during orientation, at no charge, through the mailroom at Story House.
For a list of stores in the area, view the Shopping Guide.
For information on computer and software suggestions, view Computing at CMC.
For the Desk
Computer (Review CMC's recommendations.)
Desk chair (basic ones are provided)
20-foot ethernet cable and card (only needed for desktop computers; wi-fi is available for laptops)
Desk lamp (non-halogen type) and light bulbs
Important contact information (not just on your phone!)
Calendar or planner
Book bag/backpack
Calculator
Stapler and staples
Erasable message board
3M Command hooks
Fun-Tak reusable adhesive
Writing supplies – pens/pencils, paper
For the Closet
Shoe rack
Clothes hangers
Laundry basket/bag
Laundry detergent & fabric softener
All our laundry machines use electronic cash/card
Iron and a small board
For the Bathroom
Personal care items (soap, shampoo, etc.)
Hair dryer
Contact lens supplies/spare pair of eyeglasses/sunglasses
Bath caddy
Towels/washcloths
For the Room
Comforter/blanket
Sheets (twin extra long)
Pillows and pillowcases
Mattress pad
Alarm clock
Stereo/iPod and headphones
TV & DVD player
Decorations/posters (Use 3M Command products for hanging items on walls and doors.)
Free-standing shelves or storage bins
Fan
NOTE: Air conditioning units are not allowed.
Miscellaneous Items
Camera
Extra batteries
Earplugs/noise-cancelling headphones
Surge protectors (three-prong & grounded!)
Extension cords
Plates/cups/silverware
Flashlight
Bicycle and "U" lock / skateboard
Umbrella / raincoat
Cellphone
Credit card/checks
Snacks
Refillable water bottle
First aid supplies

If you plan to have an on-campus job and have questions regarding employment documents, see Student Payroll Requirements or email payroll@cmc.edu.