ABOUT THE ARTIST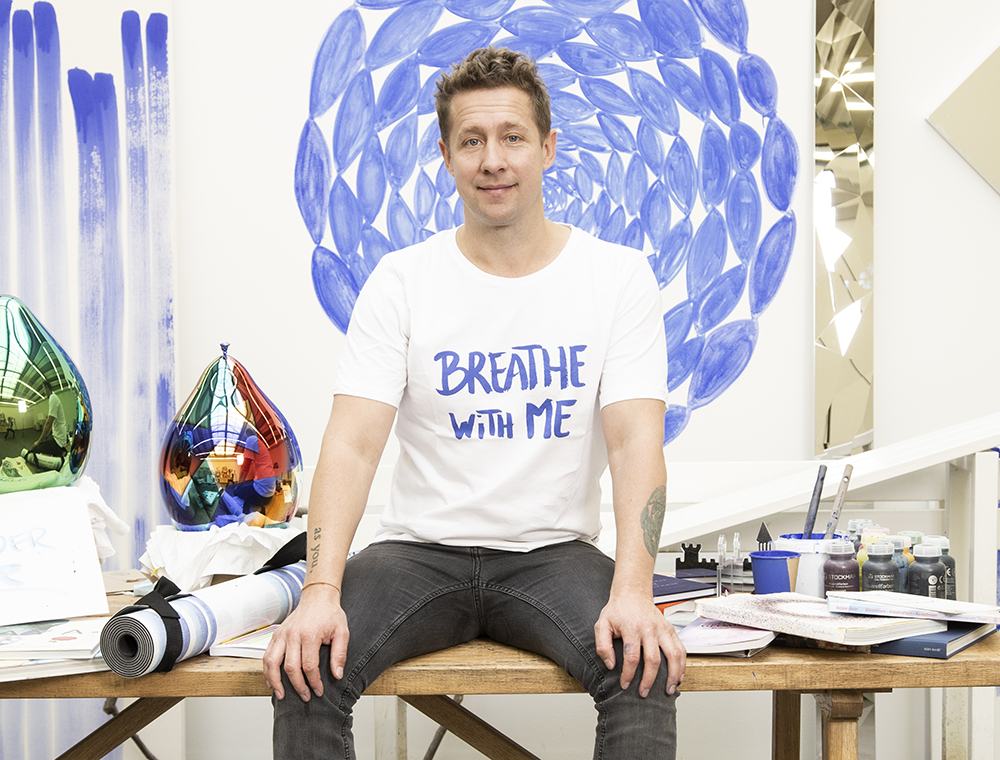 Jeppe Hein (b. 1974) is a Danish artist based in Berlin. He studied at the Royal Danish Academy of Arts in Copenhagen and the Städel Hochschule für Bildende Künste in Frankfurt.
Solo shows include Moderna Museet, Stockholm (2022); Schirn Kunsthalle, Frankfurt (2020); Breathe with Me at UN Headquarters and in Central Park, New York City (2019); Kunstmuseum Thun (2018); Château La Coste (2017); Kunstmuseum Wolfsburg (2015); Brooklyn Bridge Park, Public Art Fund, New York (2015); Bonniers Konsthall, Stockholm (2013); 21st Century Museum of Contemporary Art, Kanazawa (2011); IMA - Indianapolis Museum of Art, Indianapolis (2010); ARoS Kunstmuseum, Århus (2009); Contemporary Art Gallery, Vancouver (2009); Carré d'Art, Musée d'art contemporain de Nîmes (2007); Sculpture Center, New York (2007); The Curve, Barbican Art Centre, London (2007); Centre Georges Pompidou, Paris (2005) and P.S.1. MOMA, New York (2004). He participated in La Biennale di Venezia's 59th edition in 2022, 58th edition in 2019 and 50th edition in 2003. In 2022 he received the Carte Blanche by Maison Ruinart.
Permanent installations are on view at ARKEN Museum of Modern Art (2021); La Guardia Airport, USA (2020); Fondation Carmignac, Porquerolles Island (2018); Kistefos-Museet, Norway (2016); Rijksmuseum, Amsterdam (2013); City of Perth (2012); KUNSTEN Museum for Modern Art Aalborg (2011) and Bristol University (2009) among others.
A group of whimsical benches by the Danish artist Jeppe Hein have popped up on CMC's campus. The site of these new sculptures is outside Adams Hall, with a view of the Kravis Center and Athenaeum. They are a gift to the Claremont McKenna College community from Denise and Benjamin Kraus '11.
These brightly colored red benches will stand out on campus for their whimsy and lyrically playful humor. They will become a place for students to relax and be inspired by their creativity. Titled "Modified Social Benches Claremont", they are the first group of Hein's benches commissioned for a United States college campus.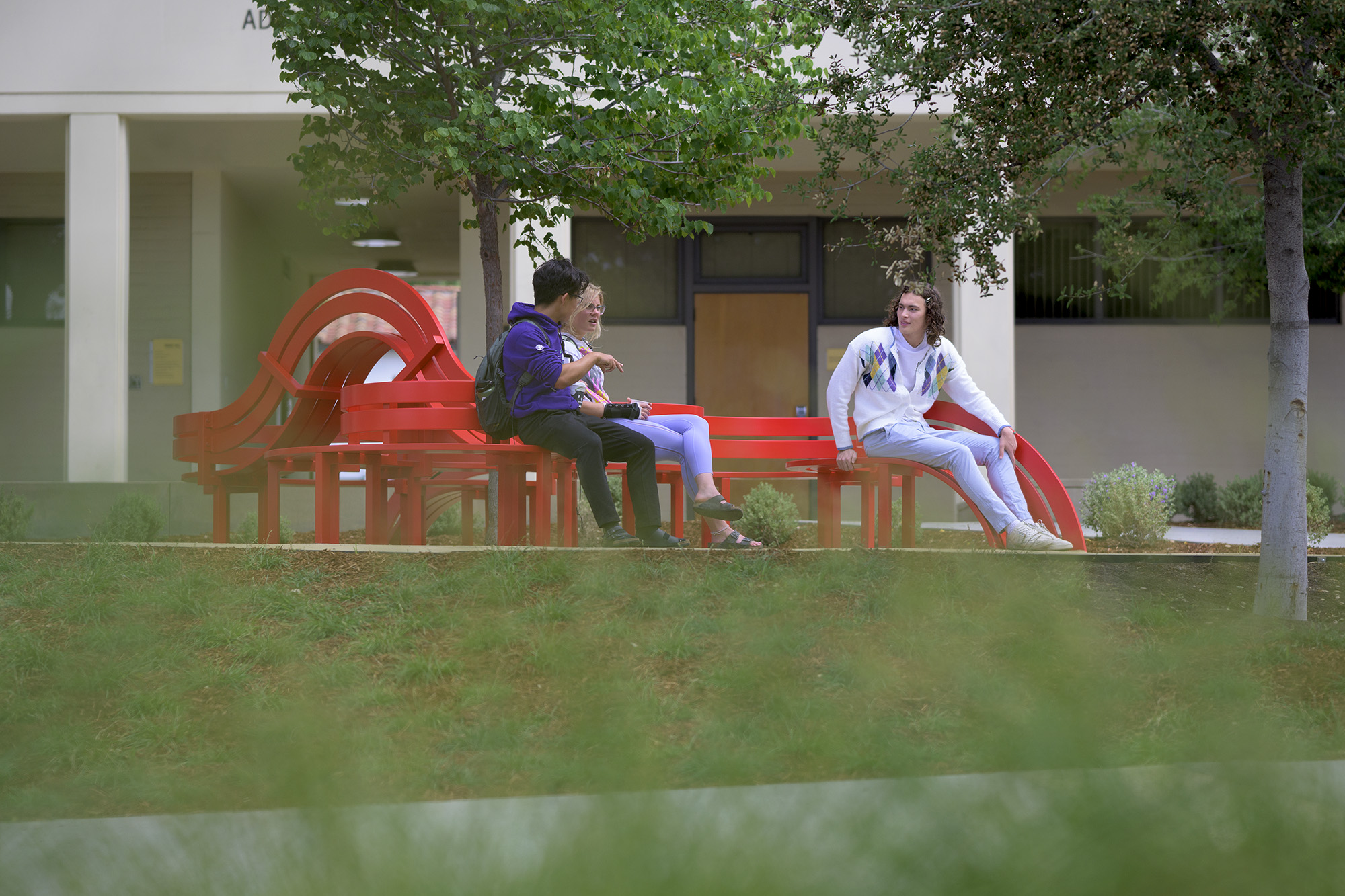 "Jeppe is a truly sensational artist," said Kraus, who first met Hein when Kraus sat on one of his "Modified Social Benches" installed in Brooklyn Bridge Park.
"Although much of his work speaks to behavioral and societal trends, I find the benches provide a fun, creative, and playful way for anyone to interact with their surroundings," Kraus continued. "Hopefully all current and future CMCers will be able to experience their environment in a new way, promoting creativity and joy on campus for years to come."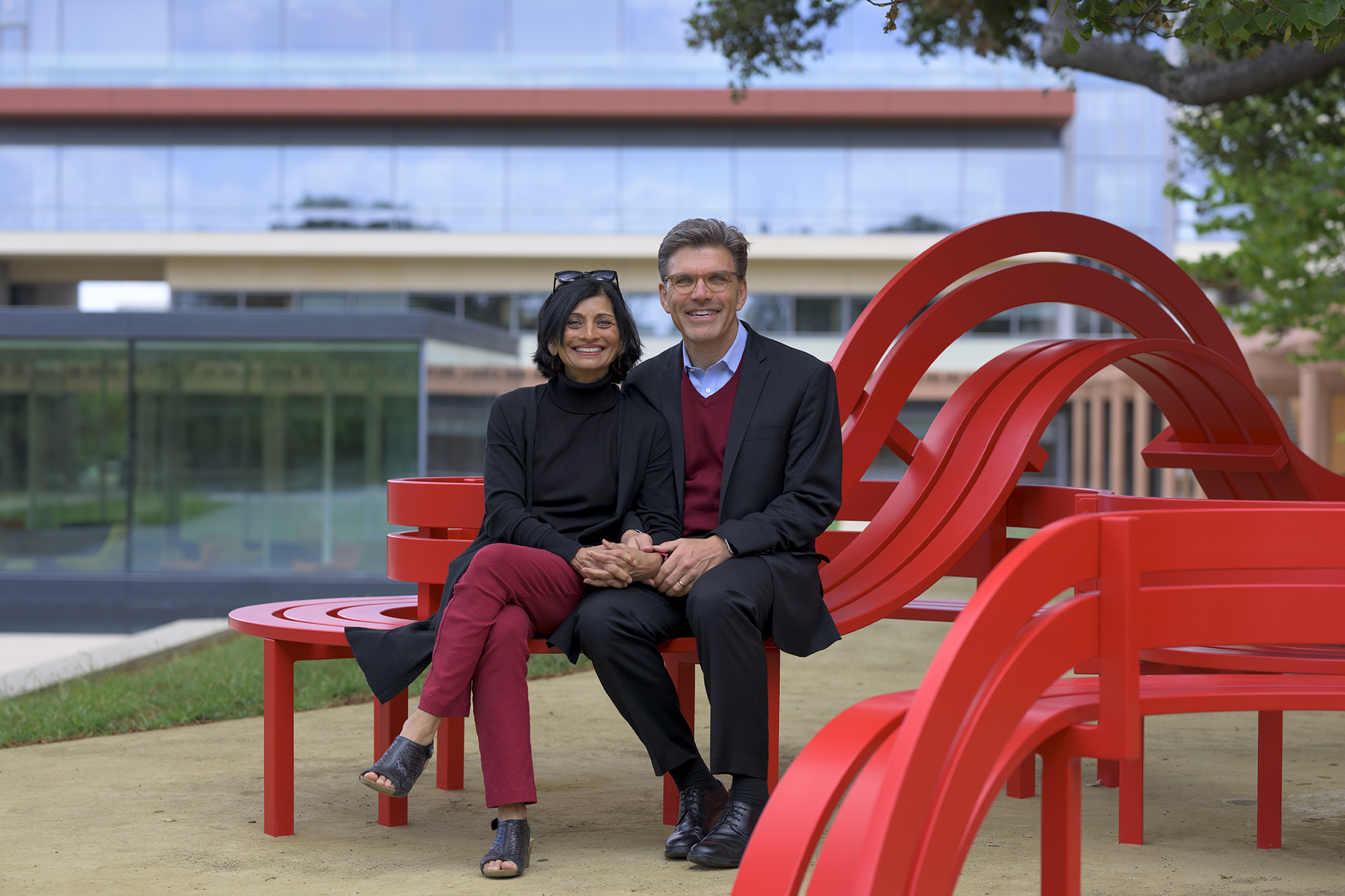 Jeppe Hein is widely known for his production of experiential and interactive artworks that can be positioned at the junction where art, architecture, and technical inventions intersect. Unique in their formal simplicity and notable for their frequent use of humor, his works engage in a lively dialogue with the traditions of Minimalist sculpture and Conceptual art of the 1970s. Jeppe Hein's works often feature surprising and captivating elements which place spectators at the centre of events and focus on their experience and perception of the surrounding space.
"Each Modified Social Bench offers an excellent opportunity for social interaction, for playfulness, laughter as well as communication and thus can be a sign for understanding and dialogue, for empathy and love—a tool that is needed in times like these," Hein said.
The CMC Public Art Program seeks to commission artworks for campus that are site-specific. For the modified social benches, Hein reviewed a number of areas on campus, eventually selecting Adams Hall, before he created the benches. With the completion of this commission, CMC's Public Art Program will have finalized five significant projects from leading contemporary artists, comprised of over nine individual artworks for the campus.
Read the artist's statement here or coverage of Jeppe Hein's workshop and discussion at the Athenaeum.