Alumni on both sides of the aisle offer solutions
---
How do we, as Americans, work together to create political and social change in a highly polarized climate? Perhaps it can start with a good faith conversation about what unites us.
The U.S. political environment is increasingly polarized. Studies by the Pew Research Center have found 85 percent of U.S. adults believe the tone and nature of political debate has become more negative in the past five years, and Americans are deeply divided on issues such as immigration, climate change, and the composition of the U.S. Supreme Court.
In July of election year 2020, CMC asked two graduates who have served in elected office for their views on polarization today, how we might bridge our divides, and the value of a CMC education in preparing students for thoughtful and collaborative engagement in public life.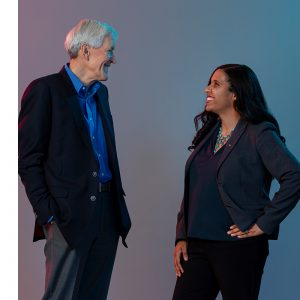 Tom Leppert '77 was elected mayor of Dallas in 2007. He resigned his seat in 2011 to run for the U.S. Senate, but was defeated in the Republican primary. Leppert's distinguished business career has included serving as CEO of several firms in five industries including, Kaplan, Inc., The Turner Corporation, and Castle & Cooke Properties. He also serves as Chairman of the Board of several other companies. Leppert has been a CMC trustee and was awarded an honorary degree from the College in 2008. He endorsed Donald Trump in the 2016 election.
Candace Valenzuela '06 was elected to the Carrollton-Farmers Branch Board of Education in 2017. She resigned her seat in 2019 to run for Congress in Texas' 24th District, and will compete in a May runoff election after finishing in the top two during the Democratic primary. Valenzuela grew up in El Paso. Her family was homeless for a period, during which she remembers sleeping for a few days outside a gas station convenience store in a makeshift bed of blankets in a plastic kiddie pool. She credits public schools and social services as a safety net that helped her develop into a top student able to attend CMC. Valenzuela was inspired to run for office by the election of President Trump, which she saw as a threat to many public institutions.
What are some of the challenges you worry about in our polarized climate?
Valenzuela: I believe accessibility to running for office is in jeopardy. I'm serving (on the school board) alongside amazing people with varying backgrounds. Their political careers are capped by the lack of access to money. If you don't have personal money or fall into line in an ideological sense with donors, you will be eaten alive by somebody who is willing to go to large corporations and do what they want. The lack of campaign finance reform and fiscal transparency is an obstacle to discourse. It's a problem for both sides.
Leppert: The system in Washington is broken. We've created a system in which a lot of good people do the same bad things. Because of gerrymandering, there is almost complete unanimity (on party lines). Very few Congressional seats are even competitive in a general election. This has forced candidates on both sides to focus only on primary elections and move to the extreme to avoid being "out primaried." We can begin to fix it by changing the way we vote in primaries. In addition, our representatives in Congress spend far too much time fundraising, and their votes are more for election survival than addressing problems.
The full story can be found in the spring CMC Magazine. Read the full issue here.