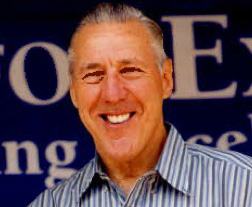 Allan Klumpp '53
Many children have dreams of becoming firefighters, ballerinas, doctors, or teachers, but when Allan Klumpp '53 was a boy, he wanted to become a mechanical engineer. That boyhood fantasy turned into a career that helped propel the dream of a nation.
A 240-ton hydraulic crane delivered a 30-ton chiller to CMC on September 9. 'What is a chiller?' you may ask. It is a state-of-the-art, super-cool(ing) unit to service both the Mid-Quad dorms and Roberts Pavilion. And with late summer heat upon us, the timing couldn't be any better.
Second Nature Aquaponics, co-founded by CMC Students Peter Fankuchen and Jack Oliphant; and Serengetee, co-founded by CMC student Jeff Steitz, won the 2013 Innovative Start-Up Awards presented by the Kravis Leadership Institute on April 22.
The awards are presented annually to a CMC student or team who proposes a business venture with the intention of putting it into operation. For the first time this year, winners were drawn from two tracks of competitors— commercial and social ventures. The commercial track award went to Second Nature Aquaponics.
Pages