With the announcement on Monday, Nov. 11, by the NCAA that the Claremont-Mudd-Scripps volleyball and women's soccer teams have qualified for their respective NCAA Championships, four fall CMS teams in all are participating in NCAA postseason competition.
In a now-forgotten corner of campus, currently occupied by part of the Kravis Center, there once stood a decayed but beloved building.  In a former age, it had been the toast of a growing and flourishing campus scene and served as the first location for the illustrious Athenaeum. In another incarnation, the building also had been The President's House.
In honor of Donald McKenna, Claremont McKenna College's founding father, the annual Tartan Snack will be held tomorrow.
Thursday, October 10
, 10:30 to 11:30 p.m., 
Collins Dining Hall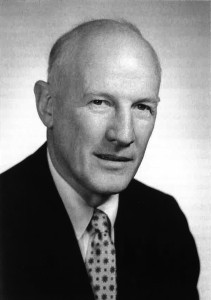 ORLANDO, Fla. – Head coach Paul Settles of the Claremont-Mudd-Scripps men's tennis team has been named College Coach of the Year by the United States Professional Tennis Association (USPTA). The USPTA announced its 2013 award winners on Friday, Sept. 27 at its annual World Conference in Florida.
What excited Norman Valencia about joining CMC? A golden opportunity.
As a new tenure-track assistant professor of Spanish and Portuguese in the Modern Languages Department, Valencia will be working on ways to develop a Portuguese program. An estimated 230 million people speak Portuguese around the world, he told the Claremont Independent this year, "making it a truly global language."
September 12th marked the 30th anniversary of the opening of the Athenaeum. Read these excerpted remarks presented at the Athenaeum on that date by Athenaeum fellow Andrew Willis '14 on the venerable institution's history and what "The Ath" has meant to CMC since its founding:
"As you may or may not have been aware today marks the 30th anniversary of the opening of the Athenaeum. Thus, I thought it might be appropriate to tell you all a little bit about the history of this place.
With September past its midpoint, each of the seven Claremont-Mudd-Scripps' fall varsity sports have had their first games, matches or meets. For a look at how the teams have done so far this fall and season previews on each sport, please continue reading below. CROSS COUNTRY Both the Athenas and Stags have two meets under their belt so far this season. Next up for the cross country team is the Stanford Invitational on Saturday, Sept. 28.
A 240-ton hydraulic crane delivered a 30-ton chiller to CMC on September 9. 'What is a chiller?' you may ask. It is a state-of-the-art, super-cool(ing) unit to service both the Mid-Quad dorms and Roberts Pavilion. And with late summer heat upon us, the timing couldn't be any better.
September 3, 2013
Dear CMC Community:
Welcome back to school!
It is a wonderful feeling for me to welcome you, as you have been so welcoming to my family over the past several months.
After all of the student internships, faculty research projects, and staff planning and campus renovations, it is exciting to start the fresh cycle of a new school year.
Pages