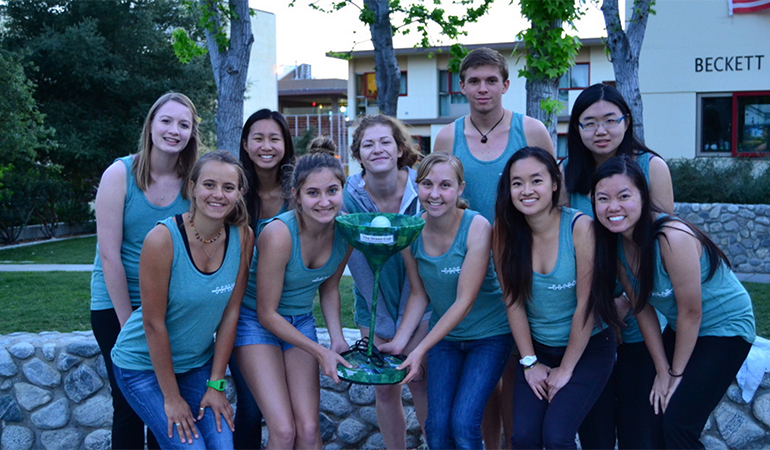 CMC SSPEAR members celebrate winning Power Down challenge
Sustainability at Claremont McKenna College encompasses a broad collaboration among staff, students, and faculty who are working to strengthen the College's commitment and support structure for educating and acting in sustainable ways.
SSPEAR (Sustainable Students Promoting Environmental Action and Responsibility)
Claremont McKenna College's environmental and sustainability club, SSPEAR is dedicated to spreading awareness of environmental issues, motivating the student body and campus services to live and operate more sustainably, and providing the necessary resources to make these changes permanent. The club president is Mira Liu '18.
Some of the projects headed by SSPEAR include working with Facilities to monitor malfunctioning sprinklers, beach clean-ups, waste audits, the PowerDown dorm energy challenge, monarch butterfly garden, and more.
Environmental Affairs Committee
The Environmental Affairs Committee (EAC) is part of the Associated Students of Claremont McKenna College (ASCMC) and is committed to enacting impactful and pragmatic initiatives that promote sustainable consumption of electricity, water, food, and other material goods by working with the Sustainability Coordinator, Facilities and Campus Services (FACS), and students. All students can submit applications for EAC and to be the EAC chair. EAC members are elected by the EAC chair and the EAC chair is elected by the vice president of ASCMC. For more information, please contact eac.ascmc@gmail.com. EAC's initiatives include:
In spring of 2017, EAC created the Sustainability Fund and a governing committee named the Sustainability Fund Committee. The fund grants $5000 per semester to CMC students who want to pursue innovative and entrepreneurial ventures that increase sustainability and environmental awareness at CMC and have the potential to yield positive returns on investment. The application process opens at the beginning of each semester and funds are awarded on a first-come, first-served basis. You can find more information about applying to the fund here.
ReRoom Program: A Sustainability Fund granted, EAC-led campus sale that provides students with the opportunity to purchase gently used items from prior CMC students at a fraction of their original cost, while reducing the cycle of waste and consumption and offering employment opportunities. Used items are collected at the end of the school year by EAC with the help of CMC staff and resold at the beginning of the academic year when new students return. In 2017, the sale generated over $2000 of revenue and more than $800 of net profit, which is used to fund additional environmentally-oriented initiatives. In 2018, the second ReRoom sale saw huge student crowds, provided a revenue of over $2,800, and employed 7 CMC students.
GreenWare Program: An EAC-led program, also funded by the Sustainability Fund, that offers reusable dining ware to CMC students, staff, and faculty free of cost. Simply fill out the request form, pick up the dishware, return it, and the GreenWare program will take of dishwashing and the rest. Plates, bowls, cups, and utensils are available for checkout. This program will reduce campus waste and litter, save the CMC community money, encourage the CMC community to move away from single use items, and create student employment on campus.
Food Waste: Worked with Collins Dining Hall and the Athenaeum to encourage a reduction of food waste and consumption of environmentally harmful products, like all animal products, through statistics and visuals. Succeeded in switching the Athenaeum's single use cups to biodegradable cups.
Weigh the Waste: A semi-annual campaign to quantify CMC's food waste reduction efforts and create awareness about food waste in Collins through which large bins are set up to collect and weigh all leftover food waste during a determined time.
Divestment: Looking into the process of divestment, shareholder engagement, and other means to reduce the endowment's dependency on climate change-causing fossil fuel.
Impossible Burger Event: Collins, EAC, and SFC teamed up in the spring of 2018 to bring students the Impossible Burger Bar, which featured sliders with a variety of different toppings to choose from. Collins expected around 450 people to attend dinner and 1069 people showed up. The event saved 30,000 square feet of land from being used for animal agriculture, conserved the equivalent water usage of a 4,000-minute shower, and spared 7,200 vehicle miles worth of GHGs. The event will take place for the second time in the fall of 2018.
Athenaeum Programming: EAC brought two guests to the Athenaeum in the fall of 2018 to bring attention to critical topics and spark necessary dialogue surrounding the issues of climate change. On October 3, Assemblymember Eduardo Garcia discussed the politics of sustainability in California and on October 24, Professor Julie Sze of UC Davis highlighted the intersection of sustainability and the environmental justice movement.
Garden Cultivation Program: In the fall of 2018, EAC renovated the student garden located next to Beckett Hall. The long-term vision is to transform the area into a community space for students to engage in convenient and fun sustainable programming. The garden will help reduce waste by using food waste from Collins and the Ath as fertilizers and composts. The produce collected from the garden will be used at future CMC events, saving money on buying food. The SFC is funding one student Garden Manager to oversee the garden for the duration of the year.

EcoReps: Last year, EAC collaborated with DOS to create three paid EcoRep positions. EcoReps are peer educators who will provide sustainability education to students in each quad. They will spearhead their own projects and collaborate on EAC initiatives.
Sustainable Dining Intern: The Sustainable Dining Intern, which is a position that was created in collaboration with the Manager of Collins, will work with Collins to help make its day-to-day operations more sustainable. By working with dining staff and students to initiate and implement programs that seek to reduce and divert food waste and encourage consumption of more sustainable food, this intern will reduce CMC's carbon footprint and, thus, contribute to CMC's efforts to be carbon neutral by 2050.
Laundry Energy Reduction Program: With the support of EAC, the EcoReps rolled out The Lower your Load($) initiative in the fall of 2018. Through targeted campaigning with better washing habits flyers in the laundry rooms and a free drying rack rental program, the goal is to witness a reduction in energy usage which we will be measured once a substantial amount of people have signed up for drying racks by comparing the energy usage before and after the program's rollout.
Roberts Environmental Center Research Analysts
The Roberts Environmental Center provides opportunities for students to familiarize themselves with the issues of environmental governance, public policy, urban planning, environmental management, and natural resource management.