Career Services For Alumni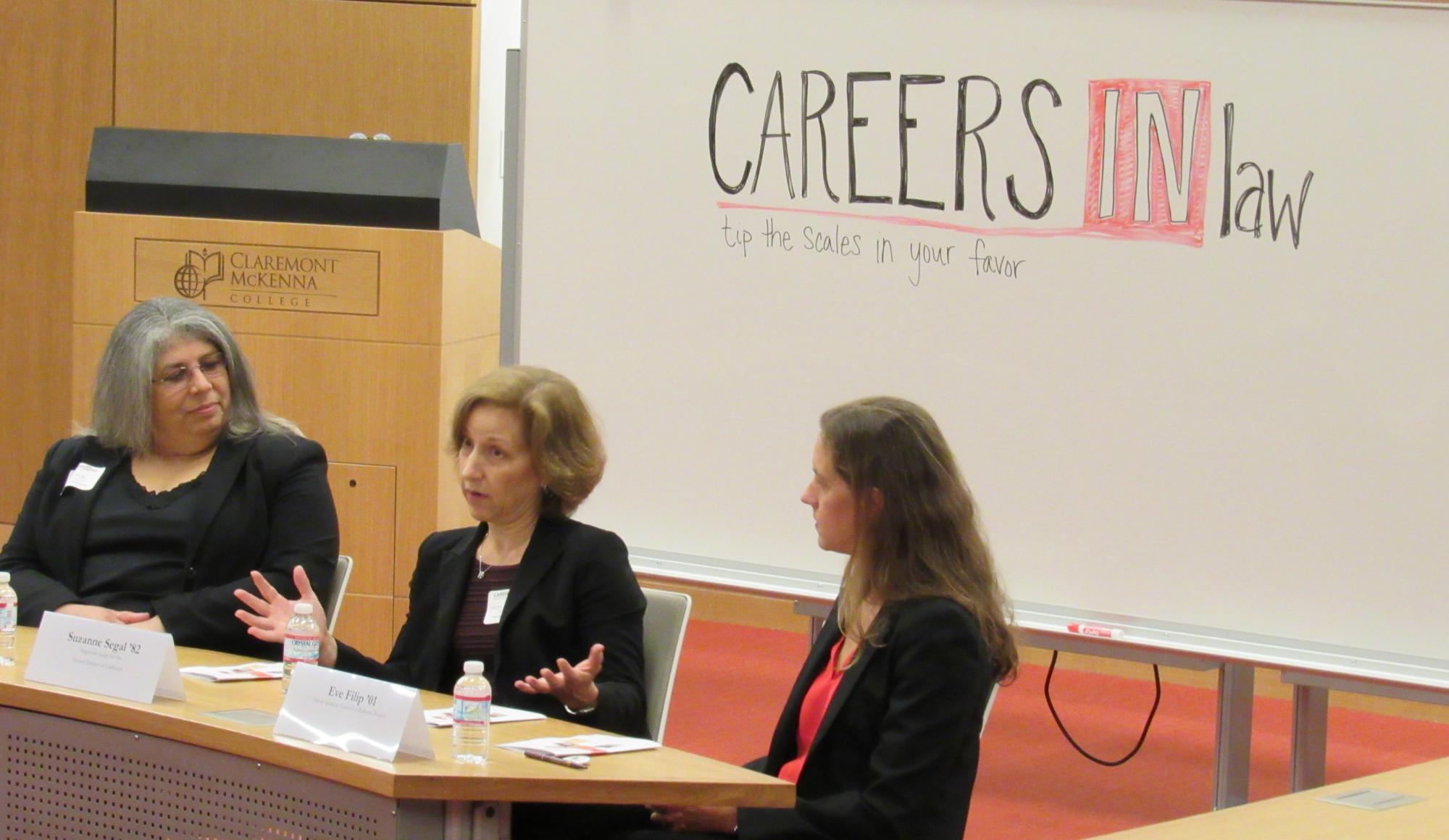 Welcome all CMC Stags and Athenas! Alumni are a tremendous resource for Career Services, and we thank you for your support and continued engagement. As an alumna/us, you can partner with us to continue to help our current students! In addition, virtually all career services that were available to you as a CMC student are now available to you as an alumna/us free of charge. Here are some of the ways in which you can partner with our office:
Ways to Provide Help
Post a Job or Internship
If you are looking to recruit CMC or Claremont College students to work for your organization, you have come to the right place. We are part of the 7-C College Recruiting Program which means that you can post a position across all of the consortium schools. To post a job you have two options: (1) You can either post the job on Handshake as an employer or (2) you can fill out the brief Alumni & Family Job and Internship Posting Form. You can also use this form if you would like to let CMC or Claremont College students know about opportunities at another organization with which you are affiliated.
Post a Micro-Internship
We want to make you aware of an exciting new way to recruit students and recent graduates to help you with any short-term project work that you or your organization may need. Micro-internships are short-term, professional, paid projects which can be completed remotely.
Through micro-internships, not only can you offer your support to CMC students, but these talented students can also provide you with immediate support on professional tasks, while they demonstrate their skills, explore career paths, and develop their professional networks. These paid opportunities typically require 5 to 40 hours of work by the student, and the projects are similar to those completed during a typical internship.
If you would like to offer micro-internship projects to CMC students for no fee, you can complete this brief online form and we will post the opportunity on Handshake (our internal job board). However, to offer more breadth and variety to our students, we have also partnered with Parker Dewey – the leading Micro-Internship network. Although Parker Dewey charges a modest fee, posting your opportunity to this network will open it to the entire Parker Dewey network, reaching students across multiple nationwide campuses. To post your opportunity on the Parker Dewey network, you can complete this brief online form.
If you would like the best of both worlds – access to the Parker Dewey nationwide platform while giving preference to CMC candidates – you can indicate a school preference in the project title, project description and short-answer questions.
Here are some additional programs we offer:
On-Campus/Remote Interviews: You can set up times to interview Claremont students on-campus or remotely.
Information Sessions: We offer employers the opportunity to speak with students about you and your organization. You can help students discover new career options and build a professional relationship.
Coffee Chats: Get to know students in small groups! Meet with 2-3 students at a time and discuss your company, role, and recruiting process. Career Services can handle all of the scheduling logistics for this event.
Attend a Meet-Up or Panel: We have a number of events over the course of the year in which you can network and engage with students who are interested in employment opportunities.
For additional information on any of these programs and to schedule a date for your visit, please contact Charlene Kile.
Share your Career Insights - Experts-in-Residence
Career Services invites alumni to share their expertise and experiences in a particular interest cluster with our students. We seek experts at two levels: Generalists and Specialists.
Generalists talk with students who are new to an industry and are looking for some basic tenants, or a primer, that will help them further investigate the industry. Many career resources are great at providing detailed information on certain sectors, but only someone in the industry can provide a concise overview as to the different lines of work, majors players, current event resources, and other information that provide an overall picture. Conversation may include information about first jobs, good decisions (or bad ones), favorite elements of your work, who and what prepared you the most for your profession, and what you know now that you wish you knew then!
Specialists talk with students who have narrowed their interests and know the basics about the industry. These questions have a tendency to focus on answers to interview questions, how to differentiate between company cultures, and other information specific to a particular role.
If you are interested in participating in our Experts-in-Residence Program, please complete the following survey, and a career coach will provide your contact information to relevant students. On average, our Experts receive 1-3 emails per month.
Host a CMC Student at your Organization
Job Shadowing
A job shadow experience entails hosting one or more CMC students, at your organization, for a few hours or full day of shadowing. We are seeking alumni who would be willing to host students for a 4-8 hour office visit over winter and summer breaks. The goals are to provide CMC students with more information about career options and to personally experience a day in the life in various professions. If you are interested in learning more, please complete the following survey, and our program coordinator will be in touch with more details.
Networking Treks
Each year, we organize student networking trips to cities such as Boston, Chicago, Los Angeles, New York City, Orange County, San Diego, San Francisco, Seattle and Washington D.C. Each trip has a particular industry focus, so if you would like to host a visit, please reach out to Ursula Diamond.
Ways to Seek Help
Online Alumni Directory
Fellow alumni are available to talk to you about their jobs, organizations, and industries as well as offer advice about how to find work and develop your career. Conducting informational interviews can be a very helpful activity, since it provides you with both information and personal contacts. The Alumni Directory can be accessed through the Alumni Gateway. Just click on Online Alumni Directory and log in with your alumni username and password. If you don't know your username and password, please contact the Alumni Relations Office at alumni@cmc.edu or (909) 621-8097. We also encourage you to get involved with a variety of networking opportunities that are offered by the Alumni Relations Office and the Alumni Chapters. For more information, please visit the CMC Alumni Association Chapters page.
Job Listings for Alumni
Many jobs for alumni are posted on Handshake, our online recruiting system and job board. Jobs are also posted on the Claremont McKenna College Alumni Association LinkedIn page. If you have not already done so, we encourage you to become a member of that auspicious group of 4,600+ alums as it is an active and useful site.
Electronic resources are an important part of the job search process, but they are not always the most effective means of finding employment. There are large hidden job markets that are best explored through personal contacts, professional associations and relationships. If you would like help in making the most of your professional network, you may want to consider a career coaching appointment.
Career Coaching
Individualized career coaching is a hallmark of CMC Career Services. Alumni are assigned to a career coach by "interest cluster". You can simply request an appointment through Handshake, our online communications and recruiting system, or by email to CareerServices@cmc.edu. Career coaching can be helpful in:
Clarifying career or life goals
Creating a personalized timeline and "game plan"
Preparing and refining a resume, cover letter, or personal statement
Researching and applying to graduate or professional schools
Understanding the concept of networking and using networking for career exploration purposes