What are Non-Profit & Social Enterprise Careers?
A non-profit organization is an entity whose primary objective is to support some issue or matter of private interest or public concern for non-commercial purposes. Non-profits are mission driven, as opposed to profit driven entitles. They are engaged in an incredibly vast array of issues including the arts, education, politics, religion, research, social justice, and social services. Most non-profits are registered with the IRS as 501(c)(3) "public charities." Private foundations are the non-profits that give money either through grants or by running their own programs.
Social enterprises are organizations that address a basic unmet need or solve a social problem through a market-driven approach. An important facet of a social enterprise is that they focus on a "triple bottom line," meaning they are not simply seeking profits, but also effecting social impact, and focusing on environmental sustainability. So while they may not be non-profits, social enterprises are similarly dedicated to social good. Social enterprises include a range of organizations, including democracy and governance, NGOs, economic growth, energy and infrastructure, environmental protection, health, water and sanitation, and youth development.
Would you Thrive in Non-Profit and Social Enterprise?
Do you want to create social impact in your community or the world at large?
Are you an innovator, disruptor or change agent?
Are you concerned with the sustainability or consequences of strategic decisions?
Do you enjoy developing potential in others? 
Do you want to make a difference in people's lives? 
Are you passionate about a cause that you want to further?
Are you motivated by a strong sense of social justice?
How can you Learn More about Non-Profit & Social Enterprise?
What should you know about Recruitment in Non-Profit & Social Enterprise?
Non-profit & social enterprise recruitment largely occurs off-campus. There are a vast number of volunteer internship opportunities in the non-profit sector, so it is advisable to select a cause that matters to you and an organization that shares your values. Many students find entry-level roles as part of communication or social media teams, although there are also many opportunities for project/program managers, administrators, and fundraisers. Recruitment typically takes place from February - May, and tends to be more "just-in-time," i.e., as positions open up and need to be filled.
Who's your Non-Profit & Social Enterprise Career Coach?
Freya Hurtado '09 - fhurtado@cmc.edu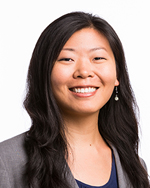 Freya (she/her/hers) works with students, employers, and alumni associated with the following interest clusters: Accounting & Financial Services; Government, Law & Public Policy; and Non-Profit & Social Enterprise. She also serves as the Pre-Law Advisor for students and alumni, provides guidance for those applying to MBA programs, and supports the Claremont Colleges students on the Washington Program. Prior to joining Career Services, she worked in data analytics and operational efficiency in the energy utility space. Freya graduated from Claremont McKenna College with a degree in Economics, Mathematics, and the Financial Economics Sequence, and she has her MBA from the Walter A. Haas School of Business at UC Berkeley. Freya enjoys cooking and baking for others, traveling, playing strategic board games, solving puzzles, watching Broadway productions, and reading novels.