What are Creative & Entertainment Careers?
Those on the creative side include those in front of and behind the camera/stage including artists, performers, writers, filmmakers, musicians, and production technicians that bring it to life. Those on the business side include managers, agents, producers, and distributors. In addition to the large production studios, there are also countless smaller marketing firms. Key career sectors include::
Creative side - including fashion, film/television, graphic design, interior design, journalism, music, museums, publishing, radio/podcasting, UI design (product design), sports, video games
Business side - including finance, business development, sales, human resources, legal, product (business and technical), corporate communications
Technical - including cybersecurity, software engineering, data analytics
Marketing - including advertising, branding, digital marketing, market research, social media, public relations, UX research (user research)
Recent CMC graduates have entered the field in a wide array of roles. Beyond the pure creative and design roles such as singer/songwriter, actor, filmmaker or freelance writer, business and marketing roles include a wide variety of opportunities: account executive, ad sales associate, assistant publicist, business development associate, data analyst, optimization & innovation analyst, pricing analyst, product marketing associate, production assistant, and user interface researcher.
Would you Thrive in Creative & Entertainment?
Are you a storyteller or creator?
Is creative self-expression fundamental to who you are?
Do you enjoy working in a creative, fun, and dynamic environment? 
Do you want to use your creative, artistic, or social skills to instigate change in the world?
Do you have strong presentation, written and verbal communications skills?
Are you comfortable developing public relations and marketing strategies?
How can you Learn More about Creative & Entertainment?
Check the Creative & Entertainment Interest Cluster Box (located within Career Interests on the drop-down menu under your name) in Handshake to receive info about upcoming events, internships and jobs
Search out job shadow opportunities on Handshake that will provide you with a "day in the life" experience of different careers  
Read the online Vault Career Guides: the Vault Career Guide to Media and Entertainment, the Vault Career Guide to Advertising, the Vault Career Guide to Market Research, the Vault Career Guide to Public Relations, and the Vault Career Guide to Social Media
Attend alumni, parent and employer-led Creative & Entertainment panels and workshops throughout the year - check Handshake events for more details
Participate in the annual Creative & Entertainment networking trek that takes place over fall break in October; application typically opens in mid-August
Join the hive
Join the CMC College Programming Board
Become a student manager or research assistant at the Gould Center for Humanistic Studies
Join Music Mania
Join Under the Lights
Join the Claremont Creative Coterie for writers
Join the Claremont Marketing Group
Listen to or host a shift of the KSPC radio station
Have fun with improv and experimental theater at Without a Box
For those interested in filmmaking, check out 5x5 Films, Claremont Colleges Screenwriting Guild, Studio 47
Are you fashion forward?  Check out PZ Threads
Write articles for one of the many student newspapers, such as The Student Life or Agave Review
Join one of the many 5C a capella groups such as Midnight Echo, 5C Mood Swing A Cappella, Blue & White A Cappella
Volunteer to manage the marketing or social media for a student club
Check out the sports careers website Teamwork Online
If you are interested in creative roles, the best way to showcase your work is through a website or portfolio!  Create one through Muse, co-founded by Peter Thum '90.  Create your own website portfolio (no design or coding skills needed!)
What should you know about Recruitment in Creative & Entertainment?
Recruitment in these industries is most likely to occur off-campus. The large film and television studios have very structured recruitment programs for internships and entry-level positions that typically run from November - March. Recruitment in the smaller organizations is less structured and can occur throughout the year. Typical internships and entry-level roles include production assistants and communications/social media roles. If recruiting for a creative role, it is suggested that you create a portfolio of your work to share with prospective employers. The key to successful recruitment in creative & entertainment is being thoroughly versed on the products and brand of that organization. One way to do this is follow your favorite companies on social media and engage with them in that forum; many recruiters consider this information when making hiring decisions.
Who's your Creative & Entertainment Career Coach?
Grace Park - grace.park@cmc.edu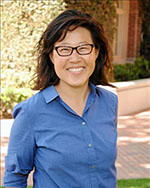 Grace meets with students and alumni in the Creative & Entertainment and Technology & Entrepreneurship clusters and also supports the Silicon Valley Program.  She has worked in higher education in career services since 2007.  She has worked at UCLA, USC Suzanne Dworak-Peck School of Social Work, Mount Saint Mary's University and taught a freshmen summer career development course at UCSB.  She has worked with students ranging from freshmen to doctoral students in all majors from arts to science.  Her work history spans a wide spectrum of experiences including television post-production, radio and college/campus recruitment at Disney and Shire (biotech).  She received her BA in Film Studies from UCSB and her MSW from UC Berkeley and is a Gallup Certified Strengths Coach.