What are Technology & Entrepreneurship Careers?
Technology and entrepreneurship are closely interconnected. Technology has advanced our ability to be entrepreneurs and innovators due to the mobility that it allows. Cloud services have made it possible for a small startup to use the same technology as a technological giant or Fortune 500 company. Technology and entrepreneurship allow us to be innovators in a world that is more connected than ever before. There are many career paths available:
Software - productivity and business applications, network and security applications, mobile apps, video games, cloud computing, virtual reality, artificial intelligence, machine learning, cyber security
Business roles - including product management, business development, business operations, sales, finance, customer success, marketing, UX/UI design, human resources, corporate communications, legal
Entrepreneurship/startup - development, design and launch of a new business/product
Hardware and infrastructure - computers, servers, storage, tablets, mobile phones, printers, network equipment, cloud data centers
Recent CMC graduates have started in technical roles such as: software engineer, associate product manager and data analyst, and non-technical roles including: business development, sales, technical recruiter (HR), associate account manager, finance associate, customer success representative, marketing, product marketing, communications, and UX/UI design.
Would you Thrive in Technology & Entrepreneurship?
Do you enjoy a face-paced, quickly-changing work environment?
Do you thrive under the pressure of constant deadlines?
Are you comfortable with irregular schedules?
Are you drawn to solving problems with data and an analytical skill set?
Do you like to study engineering design concepts?
Are you excited by new online technical applications?
How can you Learn More about Technology & Entrepreneurship?
What should you know about Recruitment in Technology & Entrepreneurship?
Recruitment for these sectors generally occur off-campus. Tech typically recruits in the fall, August - November for technical roles such as product management, software engineering, data analytics and UX/UI. Non-technical business roles including business development, sales, marketing and customer success will typically recruit from February - April. *There are some companies that may recruit for all roles at the same time in lieu of dividing them between fall and spring.  Big tech companies will recruit well in advance (fall), while start-ups will recruit a few months in advance.  Technical roles will have a technical interview (coding for software engineering and product case questions for product management roles).
Who's your Technology & Entrepreneurship Career Coach?
Grace Park - grace.park@cmc.edu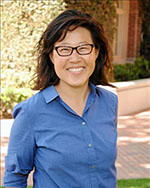 Grace meets with students and alumni in the Creative & Entertainment and Technology & Entrepreneurship clusters and also supports the Silicon Valley Program.  She has worked in higher education in career services since 2007.  She has worked at UCLA, USC Suzanne Dworak-Peck School of Social Work, Mount Saint Mary's University and taught a freshmen summer career development course at UCSB.  She has worked with students ranging from freshmen to doctoral students in all majors from arts to science.  Her work history spans a wide spectrum of experiences including television post-production, radio and college/campus recruitment at Disney and Shire (biotech).  She received her BA in Film Studies from UCSB and her MSW from UC Berkeley and is a Gallup Certified Strengths Coach.