Shannon Miller '16 and Dante Toppo '15, new Ath Fellows (2014-15) for the Marian Miner Cook Athenaeum, are going to have fun with their responsibilities this year. In fact, they're a laugh a minute.
Sophomore Miller is from Berkeley, Calif. "Think rich people, liberals, protests, and Peet's Coffee & Tea on every corner," she says. Her major is Philosophy, Politics and Economics and she has big plans after graduation.
Late afternoon sunlight falls across a restaurant tabletop in downtown Claremont.
Another typical Southern California day in April.
Novelist Mary Gaitskill leans back in her chair.
"I thought it would be grim," says Gaitskill, who's finishing up a semester as a visiting professor in the Department of Literature and visiting lecturer under the auspices of CMC's Family of Benjamin Z. Gould Center for Humanistic Studies.
She's referring to her initial reaction to the invitation to take a spring teaching post.
The American Council on Education (ACE) has named CMC's Audrey Bilger as one of 31 emerging college and university leaders for the 2014-15 class of the ACE Fellows Program. Established in 1965, the ACE Fellows Program—the longest running leadership development program in the United States—focuses on identifying and preparing the next generation of senior leadership for the nation's colleges and universities.
It's been a busy week for Jonathan Petropoulos, the John V. Croul Professor of European History. In addition to filming a segment for "CBS Sunday Morning" on campus, he was interviewed by writer Joan Faus for a story posted Monday, April 21 in Spain's newspaper El Pais, the largest in Spanish, worldwide.
Rain or shine, CMC will host the 36th Annual International Festival this Saturday, April 12 from 12 to 4 p.m. in the Gann Quadrangle––the lawn between Kravis Center and the glass Kravis Living Room.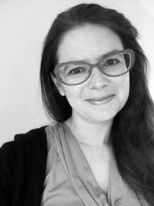 Philosopher Adrienne Martin joins CMC this fall
Assistant professor of history Lily Geismer has received an Arnold L. and Lois S. Graves Award in the Humanities.
The biannual award, administered by Pomona College under the auspices of the American Council of Learned Societies, encourages and rewards outstanding accomplishment in teaching in the humanities by younger faculty members.
Pages