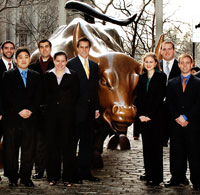 Understanding the importance of allowing students to apply what they have learned in the classroom to real-world, professional situations, all Claremont McKenna College students are encouraged to seek challenging internships and full-time opportunities. Alongside career counselors from the CMC Career Services Center, the Robert Day School works diligently to both cultivate exciting professional opportunities and assist select students in defining and achieving their career goals.
The Claremont McKenna College Career Services Center provides a wide array of career development programs and individualized assistance to economics majors looking for internships and full time employment.
In conjunction with the Claremont McKenna College Career Services Center, Economics-Accounting majors receive focused career support from the Robert Day School, in addition to strong mentorship from professors and a dedicated alumni network.
The Robert Day School is committed to building strong and productive partnerships with employers.