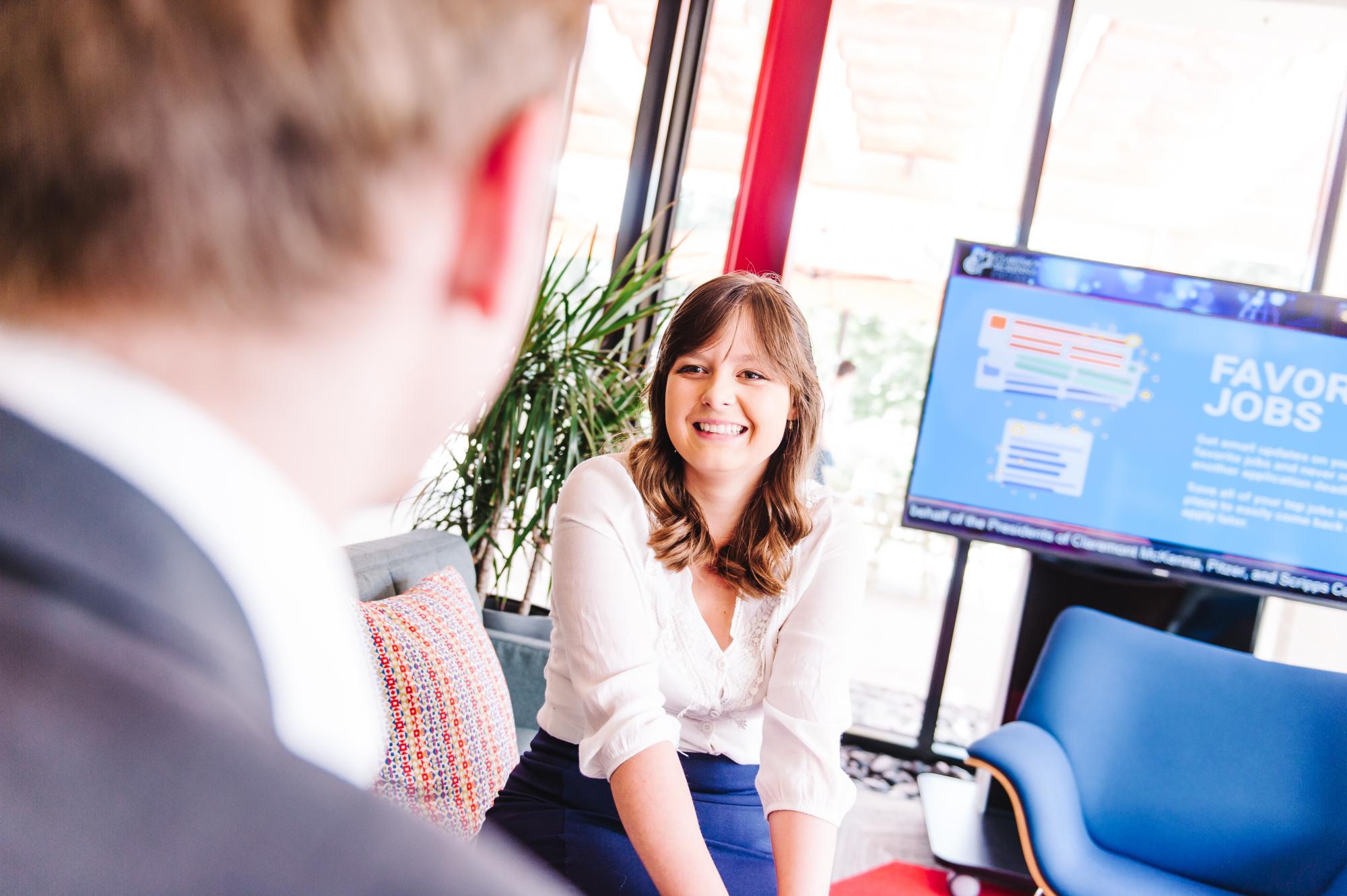 Thank you for your interest in our outstanding CMC students and alumni! CMC Career Services is housed within the Soll Center for Student Opportunity, a student-focused hub in the center of campus, and offers an array of services designed to facilitate your access to CMC's top quality students and academic programs. Organized around eight "interest clusters," our office combines the same full range of services provided by large universities, with heightened student connection and customized approaches that enable employers to recruit efficiently and easily. To get started, please register as an employer via Handshake or contact Employer Relations Coordinator, Charlene Kile.
We look forward to partnering with you in your recruiting efforts at CMC!
Why Recruit at CMC?
CMC students learn by the unique liberal arts philosophy of "learning for the sake of doing." Our students are excited to extend their learning beyond the classroom and realize that experience enhances their theory and research.
CMC students thrive when balancing rigorous academics with a life outside of the classroom. They enjoy the close-knit, collaborative, diverse community, dedicated to the free exchange of ideas. CMC students seek to better the world around us to solve real-world problems through innovation and entrepreneurial approaches. They are grounded by the spirit of free exchange of ideas and they recognize the challenges faced by diverse people all across the world.
Employers share that they recruit CMC students for the following capacities:
Leadership
Entrepreneurial Mindset
Problem Solving
Teamwork
Work Ethic
Transformative Communication
Professionalism
Technical Skills
Connect With Our Students
The Career Services team invites you to leverage our expertise and resources to identify students for your job and internship opportunities. A few of our specialties include:
Establishing a Positive Brand On-Campus
Customized Marketing/Outreach Campaigns
Information Sessions/Coffee Chats/Receptions
Guest Speakers/Expert Panels
Student Competitions/Workshops
Job/Internship Postings
On-Campus Interviews
CMC Sponsored Internships & Experiences Program
Building a Recruiting Pipeline
Industry specific "Meet-Ups"
Of course, in exchange for these services, and for the benefit of our students, we ask that you adhere to the Claremont Colleges Recruiting Policies. Please review them before engaging with our campus and let us know if you have any questions or concerns.
We have also recorded a presentation that provides some best practices regarding how to make internship offers to students!
CMC students pursue a variety of paths post-graduation. We encourage you to review our Outcomes information.
Marijuana Industry Recruiting Policy
Although marijuana is legal under certain conditions in the state of California, it is not legal under federal law. The Drug Free Schools and Communities Act 1989 (DFSCA) provides, "as a condition of receiving funds or any form of financial assistance under any Federal program, an institution of Higher Education must certify that it has adopted and implemented a program to prevent the unlawful possession, use, or distribution of illicit drugs or alcohol by students and employees." Further, under the DFSCA, institutions of Higher Education must employ "standards of conduct that clearly prohibit, at a minimum, the unlawful possession, use, or distribution of illicit drugs and alcohol by students and employees on its property or as part of its activities." If a college fails to comply, it could become ineligible for federal funding, including financial aid programs for students.
In order to ensure compliance with federal law, the Career Centers of The Claremont Colleges will not support the recruitment of students or alumni by marijuana-related employers. This includes, but is not limited to, posting internship or work opportunities, hosting company representatives on campus, promoting job shadow placements, and supporting internships for credit or non-credit.
About CMC
CMC's mission is to educate students through the liberal arts for responsible leadership roles in business, government and the professions, a unique and important position in American higher education. These outward-looking fields attract students who are pragmatic in the way they approach their education and who seek to make a difference in today's world. With enrollment around 1300, CMC students are a geographically, socio-economically and ethnically diverse group and tend to be ambitious, practical, aware and leadership-oriented.
CMC Campus Map (Career Services is #9 on map)
Request Data from the Office of Institutional Research
CMC is one of The Claremont Colleges, a cluster of autonomous colleges, each of which excels in a particular academic niche. The Claremont Colleges include Claremont McKenna College, Harvey Mudd College, Pitzer College, Pomona College, Scripps College, Claremont Graduate University and Keck Graduate Institute. Each has its own student body - ranging from approximately 700 to 1,900, its own faculty, trustees, campus, curricular emphasis, distinctive style and mission, yet the campuses share approximately one square mile of land, cooperating to provide the services and facilities of a 6,000-student university.