What are Accounting & Financial Services Careers?
Accounting and Financial Services comprise a wide variety of careers. This cluster lends itself to a wide variety of roles, most of which require sharp analytical skills, a desire to work with numbers, attention to detail, accuracy, spreadsheet skills, and an appreciation of all things "financial." There are four major groups of careers that fall under Accounting & Financial Services:
Accounting - one of the leading business sectors globally. It tracks all of the financial activities of an organization, including auditing, assurance, and tax. Many accountants are employed by the Big Four (the four largest public accounting/professional services firms); Deloitte; EY; KPMG; and PricewaterhouseCoopers. Accountants also work in corporate accounting; government accounting; and for nonprofit organizations.
Financial services - includes asset management; corporate finance; commercial banking; hedge funds; investment banking; private equity; public finance; sales and trading; and venture capital.
Insurance - includes actuarial; underwriting; adjustment; claims; and sales.
Real Estate - includes appraisal; brokerage; finance and underwriting; investments; property management; real estate development; and sales.
Recent CMC graduates have begun their financial services career in an analyst role, with job titles such as financial analyst, investment banking analyst, private bank analyst, product strategy analyst, real estate analyst, research analyst, restructuring analyst, and sales and trading analyst. Other graduates have begun their careers in associate roles, such as social content associate, associate credit analyst, and valuation & business analytics associate.
Would you Thrive as an Accountant or Financial Services Analyst?
Are you interested in solving complex business issues?
Do you enjoy quantitative and analytical problem solving?
Are you comfortable with overseeing financial details and budgets?
Are you skilled at maintaining accurate financial data?
Do you enjoy working as part of a close-knit team?
Do you work well under pressure and always hit your deadlines?
How can you Learn More about Accounting & Financial Services?
Check the Accounting & Financial Services Interest Cluster Box (located within Career Interests on the drop-down menu under your name) in Handshake to receive info about upcoming events, internships and jobs
Search out job shadow opportunities on Handshake that will provide you with a "day in the life" experience of different careers
Read the online Vault Career Guides which include the Vault Career Guide to Accounting; the Vault Career Guide to Investment Banking; the Vault Career Guide to Sales and Trading; the Vault Career Guide to Commercial Banking; and the Vault Career Guide to Middle Market Investment Banking
Attend alumni, parent and employer-led Accounting & Financial Services panels and workshops throughout the year - check Handshake events for more details
Participate in the annual FEI/RDS networking trek to New York
Apply for a research internship at the CMC Financial Economics Institute
Join the CMC Blockchain Investment Group
Join the CMC Student Investment Fund
Volunteer to become the treasurer of any student-led club
What should you know about Recruitment in Accounting & Financial Services?
Larger financial services firms have a very structured recruitment process with defined timelines. Typically, recruitment for both internships and jobs in financial services occurs from March - September. There is a lot of on-campus recruitment during this time. Internships during the Junior summer are often used as a pipeline for offers at the beginning of the senior year. Smaller, more niche and regional firms tend to be more flexible in their recruiting processes and timeline. Many summer sophomore diversity and leadership programs have deadlines during January.
Many investment banks have recently accelerated their recruitment timelines, recruiting students during their sophomore spring semester for their junior summer internship. Interviews in financial services tend to consist of multiple rounds (3-4 rounds with each round consisting of up to 6 interviews), with a heavy emphasis on "fit" and technical skills. The online Vault Guide to Finance Interviews provides a great overview of what to expect. Vault also offers a Finance Interviews Practice Guide, which helps you anticipate the types of questions you might get across all the major financial services areas.
Who's your Accounting & Financial Services Career Coach?
Freya Hurtado '09 - fhurtado@cmc.edu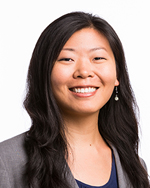 Freya works with students, employers, and alumni in Accounting & Financial Services, Government, Law & Public Policy, and Non-Profit & Social Enterprise. Prior to joining Career Services, she worked in data analytics and operational efficiency in the energy utility space. Freya graduated from Claremont McKenna College with a degree in Economics, Mathematics, and the Financial Economics Sequence, and she has her MBA from the Walter A. Haas School of Business at UC Berkeley.