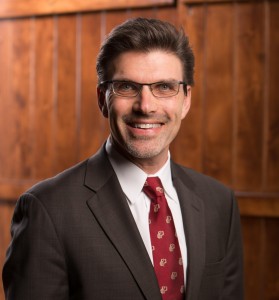 CMC President Hiram E. Chodosh
On March 5, 2014, Claremont McKenna College President Hiram Chodosh sat down with Eric Schmidt, the executive chairman of Google, and Jared Cohen, head of Google Ideas. The two Google executives co-wrote The New Digital Age: Transforming Nations, Business and Our Lives (2014), which addresses questions about how technology will change privacy, security, war, intervention, diplomacy, revolution, and terrorism. In this book, Cohen and Schmidt argue that technology gives hope for a future of promise and innovation.
As Robert Day School students get ready for employment in the business and finance sector, they've been given a first-ever opportunity to pitch businesses to senior executives.
The idea for the inaugural RDS Pitch Day event on February 21 was hatched by RDS Board of Advisors member Chris Dodds P'13 P'15, who serves as a Senior Advisor at The Carlyle Group, a global alternative asset manager. He proposed the creation of the RDS Pitch Day during an RDS Board meeting last fall.
Students in Claremont McKenna's Washington Program were invited to a town hall discussion with His Holiness the Dalai Lama on February 19 at the American Enterprise Institute.
The exclusive seminar focused on moral free enterprise and ethics. Below are some casual snapshots of CMC students at the event.
[rev_slider dalailama]
Personal and executive coach Michelle Bauman '89 was the keynote speaker at the 5th Annual Women and Leadership Workshop, held on February 5.
The event, sponsored by The Berger Institute for Work, Family and Children, Kravis Leadership Institute (KLI), and the Robert Day School of Economics and Finance (RDS), included a networking reception and roundtable discussion with 23 Claremont, Scripps, and CGU graduates working in fields ranging from education to pediatrics and public policy management.
Women's Diversity Ambassador and Advisory Director in Investment Banking at Goldman Sachs, Linnea Roberts, spoke to a packed room of mostly women students participating in the student investment funds across the 5Cs, over lunch at the Athenaeum, February 11.
In her talk sponsored by the Robert Day School, Roberts discussed her career in financial services and investment banking, sharing advice for students about to embark on their career, and reflecting on the advantages and challenges women face in the financial services industry and elsewhere.
Sophomore Rich Zajac '16 is just 20 years old, but the start-up he cofounded with CMC classmate Louis-Victor Jadavji '15––producing natural gas conversion kits for car––is gaining public traction.
This January, the Financial Economics Institute and the Robert Day Scholars Program sponsored the 11th annual New York City Networking Trip. In the final week of winter break, ten juniors and six sophomores traveled to NYC to learn about the wide array of opportunities in the financial services industry, and to connect with various alumni of all ages.
Tax season is upon us and Lina Pan '16 has laid the groundwork for an on-campus, free tax preparation program that can help CMCers and low-income families avoid the sting of big filing fees.
Pan, an ccon-accounting major, uses the Volunteer Income Tax Assistance (VITA) program under the auspices of the IRS, to provide free tax preparation services to lower-income individuals and families (i.e., individual gross income below $52,000). The IRS partners with organizations such as credit unions, schools, and businesses to offer this service around the nation.
It's not hard to imagine this as a sci-fi movie, maybe Tom Cruise is the hero, trying to out-maneuver a team of scientists who are trying to steal his genome. It's embedded in a microchip he's locked into his briefcase, and maybe the science folk want to replicate a rare genetic variant of his for––uh––not-so-noble biomedical reasons. That you could carry your genome––your entire genetic makeup–– in the palm of your hand may sound more light years away than palpably present. Or that variables in a person's DNA are just a touch-screen-swipe away… (Really?) Really.
Pages