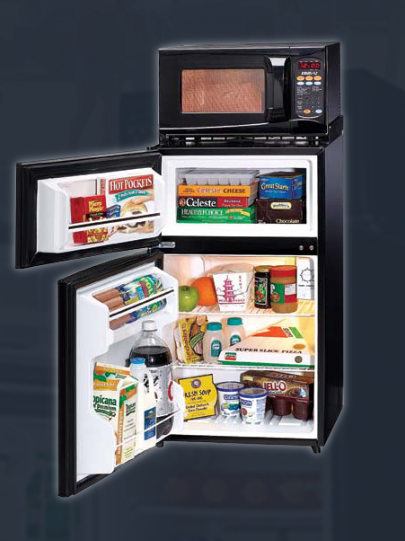 MicroFridge is a combination appliance, a refrigerator and microwave in one. It has no exposed heating elements, is designed to reduce energy consumption, and is approved by CMC. Your rental price ($209 plus tax for the academic year) includes: delivery, service repairs, and pick-up by the MicroFridge company.
Collegiate Concepts, Inc., is the exclusive supplier of MicroFridge at CMC. Orders can be placed online at the Collegiate Concepts website.
Please note that beginning in Fall 2018, as we transition to a new policy, stand-alone microwaves will not be permitted in rooms for new students. There are microwaves available in some common areas for use. MicroFridge is available to rent if you want the convenience of a microwave in your room.
Dimensions may vary by model. 44.75"H X 18.5"W X 19.5"D