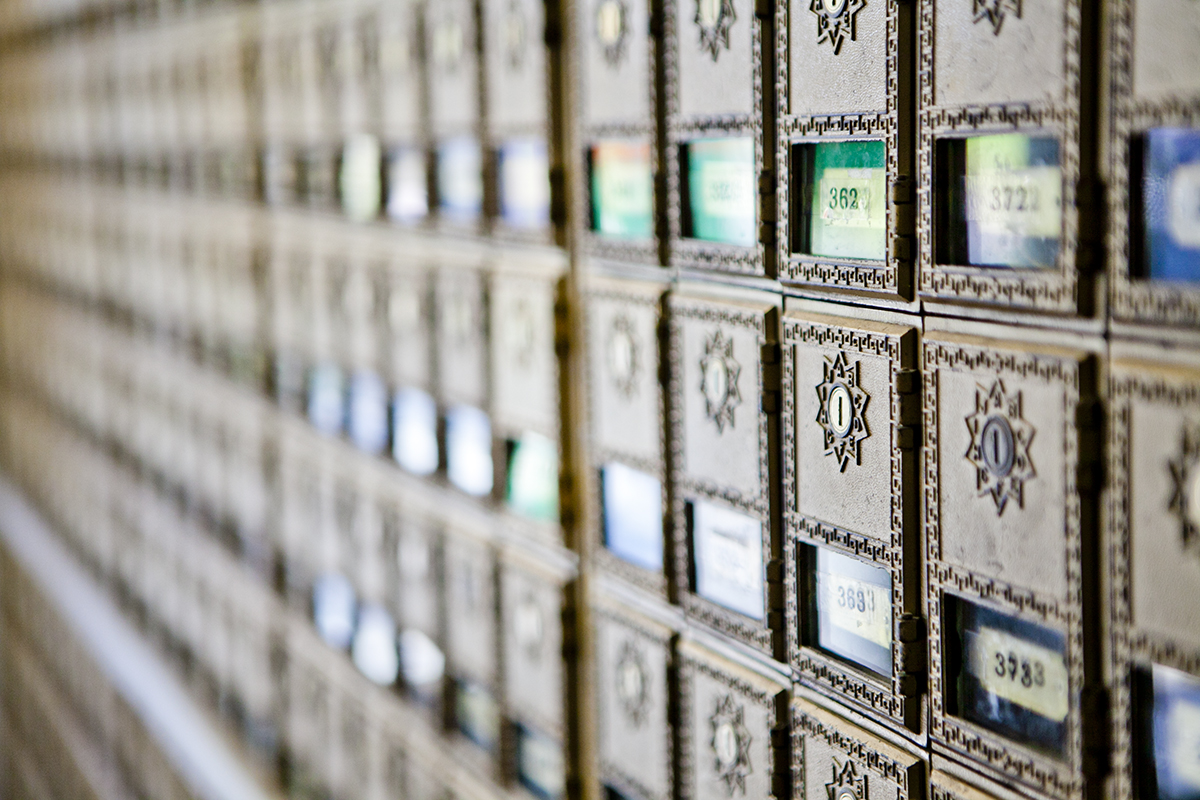 All CMC students are assigned a mailbox where they are able to receive mail and packages during the school year. Students retain the same mailbox number for the entire duration of their time at CMC. Mail and packages are received at the mailing address listed; please ensure that the student's legal name and mailbox number are on everything that is sent in order to ensure that there are no delays in delivery.
Mailing Address:
All mail for students should be received to the Story House Mailroom, and should be addressed in the following format:
Student Name, Box #
742 Amherst Ave.
Claremont, CA 91711
 
If you are a student, please be careful to ensure that your mail is sent to the address above, in that format; there are several addresses associated with CMC, and if your mail is sent to the incorrect one, there will be a significant delay in receiving it. Please also note that your box number is not a P.O. Box number, and it should be treated as part of your name.
Hours
During the academic school year, the operating hours of the Story House Mailroom are:
Monday through Friday
10 a.m.-5 p.m.
Saturday
12 p.m.-2 p.m.
Sunday
Closed.
Please note that we do not receive most deliveries over the weekend. However, package retrieval and general customer service is available on Saturdays, from 12 noon to 2 p.m.
Receiving Packages
The mailroom accepts package deliveries all day long from various shipping companies. Most packages are received in the afternoon, as is the mail, with the exception of overnight packages. When they are delivered, packages are entered into our package tracking software which automatically sends the student an email for each package received. If you receive three packages, you will receive three emails. We kindly ask that students wait until they receive the email from us before coming to inquire about a package. Large items will be returned to sender and are not the responsibility of CMC. Alcohol/ drugs will not be accepted by mailroom staff and proper authorities will be notified if these items arrive at CMC's mailroom.
Tracking Your Incoming Package
Here is a list of the most commonly used carriers and links to their package tracking websites:
U.S. Postal Service - http://www.usps.com
UPS - http://www.ups.com
Federal Express - http://www.fedex.com
DHL – http://www.dhl.com
OnTrac – https://www.ontrac.com/
FAQ's
Can I still get my mail even if I don't have my mailbox key?
 
No. If you lose your mailbox key, you will need to purchase a new one from the front desk of Story House during regular business hours (M-F, 7:30am to 4:30pm). You may get a temporary mail key for a $5 non-refundable fee. This non-refundable mail key invoice is only valid for a week while a permanent replacement key is made. The mailroom staff is not able to retrieve mail for students who have lost or are not in possession of their mailbox key or yellow slip.
 
Can other people pick up my mail for me?
 
Yes, but only if you have authorized that person by sending an email to mailroom@cmc.edu which includes your information as well as their first and last name. The recipient will also be required to show ID.
 
Does the mailroom have a scale?
 
No. If you have large items, the U.S. Post Office (located on Harvard Avenue in the Claremont Village) will be able to assist you in sending out your packages.
 
Can I send FedEx and UPS items out through the mailroom?
 
We do not have regular pick up services for either of these companies, but if you have an existing account with them, you can schedule a pick-up here at the mailroom. You must clearly package your outgoing mail with a pre-paid label before dropping it off in the mailroom for courier pickup.
 
Is there anything that cannot be sent to the mailroom?
 
Please refer to the student handbook for a list of dorm-prohibited items—items on this list include, but are not limited to:
 
a.       Portable air conditioners (fans are okay)
b.       Any item with exposed heating elements (e.g., toaster ovens)
c.       Fog machines
 
Additionally, we cannot accept deliveries of alcohol, furniture, or other very large items. Special exceptions must be vetted and approved before shipping. Please email: mailroom@cmc.edu to negotiate special circumstances.  
 
Can I send things to the mailroom during winter or summer break to be held until I arrive campus?
 
No. Unless prior arrangements have been made, all packages that arrive for students who are off campus will be refused or returned to the sender.
 
Can I buy stamps from the mailroom?
 
Yes! We sell individual forever stamps (limit 10), as well as standard sized envelopes. We accept cash, cash and cash.
 
Sorry, we do not sell postcard stamps or international postage.