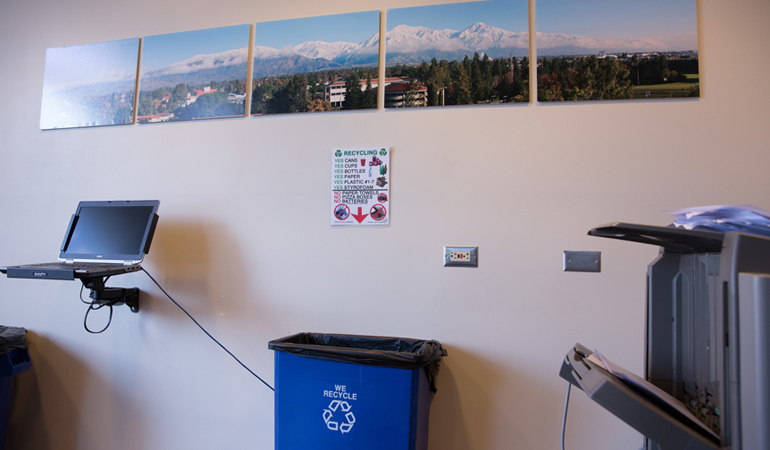 Claremont McKenna has long been committed to sustainability. Each office, residence hall room, classroom and meeting area has a "recycle only" container and a waste can. If a recycle can has obviously been contaminated with items that are not recyclable, it will be placed with the non-recyclable trash. Unfortunately, the building attendants do not have the time to go through each bag and separate recyclable and non-recyclable items. They must rely on you for that. If you do not have both types of trashcans, please call Facilities and Campus Services at x18112 and let us know.
The following items can be recycled:
Aluminum cans and foil

Metal cans

Glass

Newspaper

Cardboard

Mixed paper (copier paper, colored paper, junk mail, catalogues, envelopes and magazines)

Plastics rated 1, 2, 3, 4, 5, 6 & 7 on the bottom

Waxed drink cartons

Styrofoam
Our goal is to recycle 75% of the waste on campus. We still have some work to do towards that end. The grounds department recycles green waste including Christmas trees. The maintenance department recycles metals and porcelain whenever possible. The bathroom partitions in our newer buildings and many of the parking barriers on campus are made from a recycled plastic product. If you have any questions or comments, call Facilities and Campus Services.