Jewish Studies is an intercollegiate, interdisciplinary program which offers the student the opportunity to examine critically the rich culture and the historical experience of the Jewish people, their unique traditions, their interactions with other cultures, and their impact on world civilization. The program draws on the academic expertise of faculty in such disciplines as literature, history, religious studies, philosophy, psychology, and politics. It provides significant preparation for students considering careers in education, social work, public policy, law, business, the rabbinate, Jewish education, and scholarly research.
Students may complete the sequence in Jewish Studies or major in Jewish Studies through Scripps College.
For more information, please contact Professor Gary Gilbert.
Faculty
Claremont McKenna
Gary Gilbert (Religious Studies)
Formative Judaism
Women in Jewish Tradition
Jerusalem
Israel: Zionism and the Jewish State
Jewish Art and Identity
Jewish Civilization
Wendy Lower (History)
Jonathan Petropoulos (History)
Interested in any of the following issues? Then consider Jewish Studies. These issues (and more) are examined through the lens of the Jewish experience (Click image to enlarge)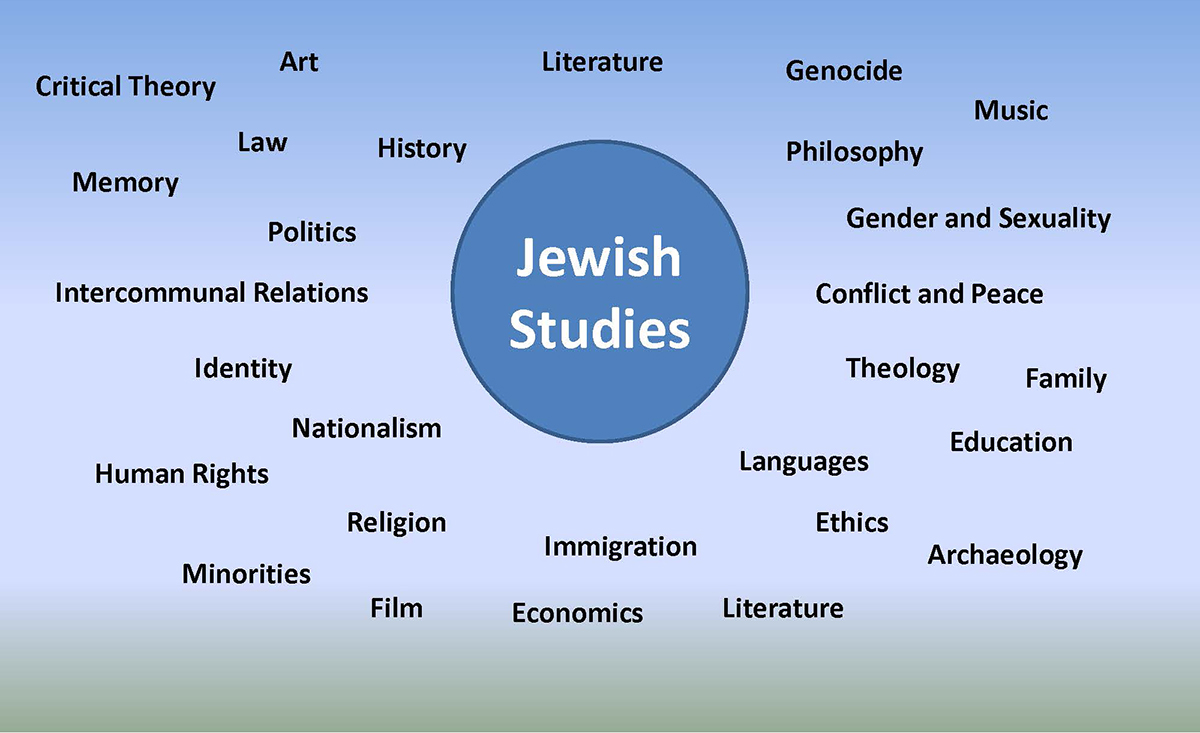 Pomona
Oona Eisenstadt (Religious Studies)
Modern Judaism
Contemporary Jewish philosophy
Erin Runions (Religious Studies)
Scripps
Andrew Eisenberg (History)
Courses
HIST 131 HM: Jewish Experience in America. Staff
HIST 137 CM: Researching the Holocaust. Lower
HIST 168 SC: The Destruction of European Jewry and German Society. Eisenberg
RLST 20 PO: Biblical Heritage. Runions
RLST 21 CM: Jewish Civilization. Gilbert
RLST 40 PO: Religious Ethics. Eisenstadt
RLST 43 CM: Introduction to Religious Thought. Davis
RLST 55 CM: Jewish Art and Identity
RLST 60 SC: Feminist Interpretations of the Bible. Jacobs
RLST 87 CM: Israel: Zionism and the Jewish State. Gilbert
RLST 129 CM: Ancient Jewish Experience. Gilbert
RLST 130 PO: Convivencia: Religious "Tolerance" in Medieval Spain. Wolf
RLST 132 PO: Messiahs and the Millennium. Runions
RLST 133 PO: Modern Judaism. Eisenstadt
RLST 135 CM: Jerusalem. Gilbert
RLST 137 CM: Jewish-Christian Relations. Gilbert
RLST 139 PO: Contemporary Continental Jewish Philosophy. Eisenstadt
RLST 143 CM: Philosophy of Religion. Staff
RLST 154 PO: Life, Love, and Suffering in Biblical Wisdom. Runions
RLST 157 PO: Post-Holocaust Philosophy. Eisenstadt
RLST 158 PO: Jewish Mysticism. Eisenstadt
RLST 162 PO: Modern Jewish Thought. Eisenstadt
RLST 163 CM: Women and Gender in Jewish Tradition. Gilbert
RLST 178 PO: Modern Jewish Experience. Eisenstadt
RLST 184 PO: Queer Theory and the Bible. Runions
Study Abroad
Ben Gurion University, Ginsberg-Ingerman
Overseas Study Program
Hebrew University, Rothberg International School
University of Haifa, International School
CET Jewish Studies in Prague
Summer/Post-Graduate Programs
Tel Akko Archaeological Excavation
Akko, Israel
Masters Program in Jewish Studies
Oxford Centre for Hebrew and Jewish Studies, University of Oxford