Psychological Science Labs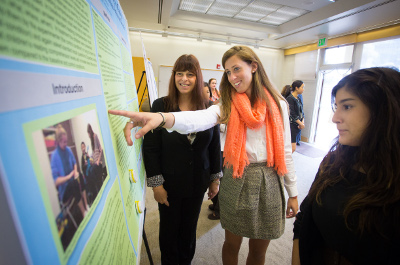 A great way to learn about psychology and gain valuable hands-on experience is to work in the laboratories and research institutes run by CMC Psychological Science faculty.
A central feature of our curriculum is the involvement of students in faculty research projects. Students also develop their own research ideas and conduct studies to test their hypotheses. Laboratory opportunities provide hands-on experience in current research methods in psychology. Internships (see Careers, Internships, & Graduate School website) provide off campus learning experiences in clinical and other types of work environments.
Integrating emotional, socio-cultural, and developmental perspectives, the AMH Lab at CMC focuses on examining the biological, social, and individual correlates of physical health and psychological well-being. We take a bio-ecological systems theory approach, which argues that multiple environmental and individual subsystems play important roles in influencing children's development. We approach our work through the lens of the cultural-fit hypothesis, which emphasizes the person-situation interaction and highlights how psychological processes may vary across cultures and contexts. This understanding would lead to different solutions to the same problems of healthy adaptation and development, as well as acknowledging different strengths. Dr. Stacey N. Doan directs the AMH Lab. Our goals include:
advancing understanding of how psychological states and social environments lead to health and disease

disseminating and applying health psychology research to real-world settings

educating relevant stakeholders including educators, students, parents, and policy makers on the importance of psychosocial factors for promoting health.
---
The Berger Institute for Individual and Social Development is directed by Dr. Stacey N. Doan. The institute is broadly interested in understanding structural and societal factors that influence adaptation and development across the lifespan. The Institute takes an interdisciplinary approach to its research and collaborates with faculty in a variety of fields including history, gender studies, and government.
---
Center for Applied Psychological Research
The research center explores the applications of psychological theories and research to two broad areas: the legal system and intergroup relations. Students in Psychological Science contribute to research in areas such as jury decision-making, expert testimony, the prediction of dangerousness, interrogations and false confessions, the death penalty, stereotyping, prejudice, and intergroup conflict. For further information, contact Professor Costanzo, Professor Krauss, or Professor Levin.
Whether you're a psych major or someone interested in the law, this lab with professor of psychology Daniel Krauss, J.D., Ph.D., who is a board certified forensic psychologist, offers undergraduates exposure to legal issues and research, including how juries make decisions with respect to psychology and law. "Students… will be working from an empirical perspective on legal questions," says Krauss, whose own expertise includes jury decision-making and expert testimony. Students assist in research studies from start to finish––collecting results, analyzing data, and even presenting findings at professional conferences.
---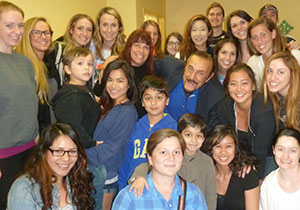 The Claremont Autism Center is a treatment and research facility for children with autism and their families. It is housed in the Leon Strauss Foundation Clinic. Students who are interested in getting hands on experience providing behavioral intervention with the children may take courses and study in the Autism Center. Additionally, there are numerous research projects available for student participation. For further information, please visit The Claremont Autism Center's website. You can also contact Professor Charlop or the center's staff at (909) 621-8598.
Beautiful Minds
Tucked away in a small nook of Seaman Hall at Claremont McKenna College, the Claremont Autism Center is a thriving treatment and research center for children with Autism and their families.
---
In the Cognitive Neuroscience Lab we use the tools of cognitive psychology, cognitive neuropsychology, and functional neuroimaging (fMRI, EEG/ERP) to investigate the role that the body plays in directing our perception, attention, recognition, and emotional processing. In addition to studying the behavior and brain function of typical individuals, we collaborate with neurologists and neuropsychologists to study people with brain-damage and atypical development.Students are encouraged not only to contribute to on-going studies but to develop their own original experiments. For further information, contact Professor Reed.
---
Cultural Influences on Mental Health Center
This center seeks to answer two primary questions. How does culture affect mental health? And, how do we improve the treatment of mental illness for those from diverse backgrounds? Students conduct research in areas such as immigration's impact on family relationships, adaptation of mental health services for those from different backgrounds, cultural competence and mental health outcomes, and ethnic differences in dating preferences. For further information, contact Professor Hwang.
Psychology Lab: Cultural Influences on Mental Health Center
There's no denying the fact that the United States is one of the most diverse countries in the world. At the Cultural Influences on Mental Health Center, supervised by Wei-Chin Hwang, Ph.D., Associate Professor of Psychology, students work on high quality and cutting edge research examining how culture influences various aspects of mental health. Current projects include studying how mindfulness and meditation improve mental well-being, examining issues of acculturation and the acculturation gap, and researching how to culturally adapt and modify psychotherapy and mental health services to be more effective and accessible to diverse populations.
---
Research in this lab examines how valuation and decision-making emerge at the neural level, and how these cognitive processes interact during choice. Using neuroscience techniques such as event-related potentials (ERP), students will contribute to research on how decision-making unfolds over time, and across domains including social and economic choice. For further information, contact Professor Harris.
---
Child Development and Public Policy Lab
This research laboratory examines the intersection of developmental psychology and educational policy. She is primarily interested in children's cognitive development and school performance as well as the use of longitudinal and cross-sectional methodology. Currently, she has 2 active lines of research that examine: 1) the role of language development in memory formation in bilingual and monolingual children, and 2) the longitudinal impact of IQ scores on school children's special education diagnoses. For further information, contact Professor Kanaya.
---
Human Learning and Memory Laboratory
Research in this laboratory is best described as an exploration of the mental representations and cognitive processes responsible for human learning and memory. Research assistants develop an appreciation for the most recent theories and research methodologies used to understand prospective memory, source monitoring, and other memory phenomena related to recognition and free recall. For further information, contact Professor Cook.
---
The Kravis Leadership Institute sponsors leadership studies at CMC. The Institute hosts conferences, workshops, and speaker series, and conducts research on leadership applications, contributing to the growing body of knowledge in the field. See "Special Programs for details." For further information, contact Professor Conger, Professor Riggio, or visit the Kravis Leadership Institute web site.
---
Research in this lab examines memory in healthy aging, specifically investigating older adults' prior knowledge and its influence on other aspects of memory. More broadly, we are interested in how knowledge works in memory, not only in older adults, but also in our memories for the stories of our lives (autobiographical memory), in our shared culturally-based experiences (collective memory), and in educational contexts. Students can participate in all aspects of conducting research including developing experiment ideas, recruiting participants, collecting data and interacting with participants, analyzing data, and presenting findings at professional conferences. For further information, please contact Professor Umanath.
---
The goal of the METRICS Lab is to understand and improve team dynamics at work, especially those teams that are diverse in nature. To achieve this overarching goal, the lab focuses on teamwork, diversity and methods. An array of research projects, including qualitative, quantitative, and theoretical work, are ongoing. Specific examples of some of our papers include: (1) debunking some of the team assumptions through the lens of culture research, (2) coming up with lessons learned for extreme teams, and (3) how to measure ethnic identity. Ultimately, we seek to enhance the benefits of diversity in teams at work. For further information, please contact Professor Feitosa.
---
Research in the MEAT Lab examines how emotions and non-conscious processes influence judgments of equity, justice, and harm as well as the tendency to engage in antisocial or prosocial behavior. Examples of current research include 1) the influence of emotional states such as compassion gratitude and awe on social judgment, and 2) understanding the processes by which institutions lose and regain public trust after moral transgressions. For further information, contact Professor Valdesolo.
Behind the Scenes: CMC's Moral Emotions and Trust (MEAT)Lab
What effect does a person's emotional state have on moral behavior or judgment and decisions? Student research assistants at the MEATLab are finding out how relevant this under-studied field can be in such areas as politics and religion. The College's Moral Emotions and Trust Lab is led by Associate Professor of Psychology Piercarlo Valdesolo. Half a dozen students work closely with Valdesolo weekly, coming up with ideas for cutting-edge research projects, running studies, analyzing results, and presenting their findings. "We get to engage every step of the way and put our work out there," says RA Isabela Osthoff-Magalhaes '14. On the flip side, says Valdesolo, "We (faculty) get to interact with these very smart and talented students without whom we wouldn't be able to do our research."
---